Name:
Beth {Bethany}
Details:
31 years old (Libra), Female, Straight
Location:
Wiltshire, United Kingdom
Profile Link:
www.faceparty.com/busty-beth


In my own words


Well, as you may of gathered...yes my name is Bethany! I'm 5'4-5'5, long very dark brown hair, tricolour eyes (brown/green/grey), olive skin, ¼ Malay, 32J (hence my nickname on here! They kept growing & milk made them grow bigger weirdly, so stopped drinking the stuff!) & naturally supple hence my flexibility...lol! Used to have my tongue pierced (I miss it, so may have to re-do it again soon). That's me in a nutshell. Nice girlie, who cares about people if they treat her well & respect her but despise people who fuc* her about. I'm not racist or homophobic...open minded & down to earth! Take people as they come or not at all, don't try to change someone, after all that is not who they were when you met them. Bit of an avid shoe & tongue stud collector aswell. Lol! I'm semi-vegetarian cuz I eat seafood (Pescetarian), have been one for 14 years now...what willpower I have! Hehe! * A MASSIVE hello to all the people who know me * :oP

Blog
4 posts | view all
Imposter
wrote
The sad imposter's profile: http://www.myspace.com/bustybeth 69

GrRrRrRrR! Hopefully it will be taken down soon though :o)

The Meaning Of Life...


To be content, happy and be grateful of what you have...after all life is what you make it. So there is no point getting all depressed about life...I do not believe in getting depressed myself. And also DID you know that most of the Australian wine comes from the Bethany vineyard! Even got Bethany wine! How kewl is that?! Not many people have wine in their name! Haha! GrRrRrR! Yeah baby! }:o]~


Comments
10 of 221 | post a comment | view all

bigbloke73

wrote...

How are you Beth? Good I hope? x
send message

loveroflife

wrote...

Nice to see a fellow Pescetarian most people don't know what it means, I stopped eating meat in 97 but never gave up on fish and seafood. Went traveling round Japan and would probably have starved if I hadn't eaten fish.
send message

brownster

wrote...

Hello Beth,how are you?
send message

bigbloke73

wrote...

Come and say hello sometime Bethany!! x
send message

b4zzer

wrote...

I like you. x
send message

xxdreamboyxx

wrote...

Beth...xxx
send message

bigbloke73

wrote...

Wow love the sexy asian looks!!!
send message

dundeetam

wrote...

msn oh busty one?
send message

kingo7

wrote...

Hey How r ya?fancy chatting on msn?my addy is [email protected] xx
send message

robnewey

wrote...

Hello beauty how's u? X
send message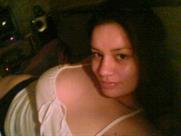 offline

Send message
Add friend
Add to hotlist
Rate member
Report member
one 2 one
View photos (8)


Personal Stats
Interests
Animals, f1, knitting, shoes, shopping, tv
Makes me happy
Animals, Humbug & Jazzmine, shoes, shopping
Makes me sad
Animal/child cruelty, deaths, hunting, liars
Perfect Partner
Dark hair & brown or green eyes. Similar outlook
Bad habits
Apparently I'm too extravagant & a perfectionist!
Cigarettes
I don't like people smoking
Alcohol
I drink occasionally
Race
Mixed Race
Hair
Very dark brown, long & shiny
Eyes
Hazel
Body Type
Defined

Favorite Things
Food
Bagels, curry, chilli - anything HOT! Love it!
Music
Beyoncé, Coldplay, Katie Melua, The Corrs, Travis
TV Show
Afterlife, Ally McBeal, Bad Girls, Lost, Nip/Tuck
Author
Freya North, Lauren Weisberger, Sophie Kinsella
Movie
Blue Streak, Hannibal, Proof of Life, The Hours
Night Club / Bar
I'll pass thanks!!! Well nice bars are okay ;o)
Animals
I like them all! I'm an animal lover...gRrRrR!
Place
Malaysia, Mauritius, The Seychelles
Possession/Thing
Childhood bears, Radley & footwear collection

Details
Last logged on Cool Tools™ only
Advanced stats Cool Tools™ only