Name:
Amber
Details:
23 years old (Scorpio), Female, Single, Open Minded
Location:
Bournemouth, Dorset, United Kingdom
Profile Link:
www.faceparty.com/moshartist


In my own words


Im Amber!

I just wanna play music, laugh, meet new people and have a beer along the way :)

I enjoy festivals and gigs, and the art/design aspect of life. I'm a spontaneous don't-knock-It-till-you-try-it person,and play ukelele & guitar :) There's no room in this world for shy, awkward silences! I'm a spunky, easily influenced, easily distracted, easy to get on with girly :)
I have afew tattoos & piercings, and love to travel!!
I'm a skapunk/skacore/reggae/ DUB person, so you get extra points if you are too :)

Hit me up :)

In A Perfect World...


Everyone would have a decent sense of humour.
Life is one big joke. So let's start with some sarcsastic witty banter! :)


Comments
10 of 31 | post a comment | view all

twisty_06

wrote...

just shining up my cod mw3 case... looks pristeene!
send message

twisty_06

wrote...

haha, richie twist is the name,... you will do is my game!
what you up to smelly bum :D x
send message

twisty_06

wrote...

meh, i suppose i could bring myself to like ur face!!
haha howa u x
send message

mcraverbaby

wrote...

Well.... I do believe I have stumbled across an absolute stunner here!!
You're without doubt, Perfection, simply Irresistable (apologies for the spelling lol). Its those eyes.. Damn i'm such a sucker. It gets better, ur profile = top marks, id really like to get to know u better i mean, how can i let u just pass on by, that would make me stupid..
aint expectin u msg me bk, i mean ur TIP TOP.
so ill jus keep my fingers crossed
sio if u Fancy a chat sometime? whats you're msn?xx mine badboi
send message

a_pornstar

wrote...

heyhey hows you? fun day? x
send message

the_anti-trendy

wrote...

well hello there miss lady :)
x
send message

volcomboy

wrote...

I ammmm why havnt u added me yet? lol
send message

danny123uk

wrote...

wow hun lookin v sexy in ure pics hows u2day? xx
send message

donniedarko375

wrote...

hun your a hottie :p i would :p xx
send message

your_kandi

wrote...

hey howz u?? nice pics hun :) so u up to much? am supposed to be stoppin smokin but just gave in a and got sum lol bad habit but hey hahaha wanna chat on msn?? whats urs?? wb xx
send message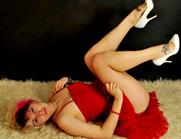 offline

Send message
Add friend
Add to hotlist
Rate member
Report member
one 2 one
View photos (13)

ME
13 photos

Personal Stats
Interests
Music, Guitar, pole dance, product design
Makes me happy
Gigs, Festivals, Travelling, Spontinuity.
Makes me sad
Mayonaise :(
Perfect Partner
Humour/music lover please :)
Bad habits
Turning everyting into a sexual innuendo.
Alcohol
I like to get drunk
Race
White / Caucasian
Hair
Hairsprayed, Big, Curled, Coloured
Eyes
Brown
Body Type
Average

Favorite Things
Food
Cheese & Crackers :D
Music
Ska, Punk, Reggae, Dub, Skacore.
TV Show
The inbetweeners
Author
Judy Bloom
Movie
The Hangover :)
Night Club / Bar
The croft - Bristol
Animals
Puppy
Person
Pin Up Girls.
Website
Click here to view
Place
An adventure :)
Possession/Thing
My guitar :)

Details
Last logged on Cool Tools™ only
Advanced stats Cool Tools™ only