Name:
Pam
Details:
35 years old, Female, Single, Straight
Location:
United Kingdom
Profile Link:
www.faceparty.com/pammid


In my own words


Intelligent, quiet, up for a laugh. I love long country walks and a nice hot bath. I have giggling fits when I find something funny! I really dont like when my nose gets all runny! I live in a house with my 'rabbit' and Cat. Please let me know if you fancy a chat.

I am at that age now where I think it would be nice to settle down with a lovely man. Not sure this site is the right place to meet said man, but I guess anything is possible :D

Blog

wrote
Two hookers were on a street corner.
They started discussing business and one of the hookers said, "Yep, it's gonna be a good night, I smell c**k in the air".
The other hooker looked at her and said, "No, I just burped."

My Mum Says...


make sure you wear a clean pair of knickers every day, just in case you get run over.
She also says she will happily sell me for 6 bantam hens, a chicken coup, a chicken run, a goat and a miniature pig.


Comments
10 of 199 | post a comment | view all

nunoband

wrote...

You look great for a 33 year old! :)
send message

poshguy21

wrote...

nice profile :) x
send message

danny123uk

wrote...

wit wooo pam hows u gorjus? xx
send message

giddings2

wrote...

you so pretty babe, babe why are you on a dating site? if i had a woman like you id treat you like a princess, you got a good job and your gorgeous,you seem like a lovley person what more could a man ask for xxx
send message

clueless25m

wrote...

heyyy how are you doing?
do you got any messenger for a chat?
send message

lincoln_punk

wrote...

Heyyyy long time no speak! How's it going?
send message

joecoleblade

wrote...

stunner x
send message

mitchy1987

wrote...

very hot!! u ok? xx
send message

gentofkent

wrote...

lush ;)
send message

mcraverbaby

wrote...

Well.... I do believe I have stumbled across an absolute stunner here!!
You're without doubt, Perfection, simply Irresistable (apologies for the spelling lol). Its those eyes.. Damn i'm such a sucker. It gets better, ur profile = top marks, id really like to get to know u better i mean, how can i let u just pass on by, that would make me stupid..
aint expectin u msg me bk, i mean ur TIP TOP.
so ill jus keep my fingers crossed
sio if u Fancy a chat sometime? whats you're msn?xx mine badboi
send message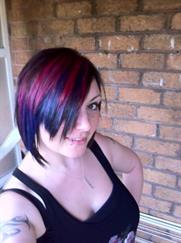 offline

Send message
Add friend
Add to hotlist
Rate member
Report member
one 2 one
View photos (26)


Personal Stats
Interests
Music, movies, books,
Makes me happy
Dancing, kissing, Galaxy chocolate, Haribo
Perfect Partner
Still trying to figure that out!
Bad habits
I am an angel! No, really, I am ....!
Cigarettes
I don't smoke
Alcohol
I drink occasionally
Drugs
I don't use drugs
Race
White / Caucasian
Hair
Brown with streaks of pink and blue
Eyes
Brown
Body Type
Average

Favourite Things
Food
Anything with NO MAYO
Music
Indie/Rock and sometimes a bit of cheese
TV Show
Family Guy, Come Dine With Me
Author
Jane Austin, Dita Von Teese, Dan Brown
Movie
POTC, Goonies, LOTR, Matrix, The Crow
Night Club / Bar
Anywhere I can dance and there are no chavs
Possession/Thing
Now that would be telling...!

Details
Last logged on Cool Tools™ only
Visitors 205,440 visitors