Name:
Ema
Details:
31 years old (Scorpio), Female, In Relationship, Bisexual
Location:
Chester, Cheshire, United Kingdom
Profile Link:
www.faceparty.com/dark-hearted


In my own words


Hi! I'm Emma.

I adore Depeche Mode, IAMX, Mesh and She Wants Revenge.

I love:
Lush pamper days, cooking, watching the horse racing on a saturday afternoon, candles, romance, going for walks, going to the local geek night, bdsm and fetishes, films, music, eating out, magazines, gaming, tattoos, clubbing, pretty much a lot of things!

I'm a friendly and outgoing person, but also appreciate the darker side of life.

The Meaning Of Life...


Is to live life with no regrets.
Take chances and make yourself happy. If you can't do it yourself, then no one else is going to do it for you.
It is so much better to take chances and learn from it, than forever wish you'd taken up an opportunity and lost it.


Comments
10 of 41 | post a comment | view all

for_lovers

wrote...

You must be the only person on her who likes She Wants Revenge. serious cool points :)
send message

seventhstoreytheory

wrote...

:)x
send message

tracymc

wrote...

hi i just rated you a wee sexkitten :)
send message

serbitar

wrote...

Come to Birmingham? <3
send message

serbitar

wrote...

I do hope you are okay, missy. I miss bothering you =(
send message

serbitar

wrote...

GOSHHHH. Its been a long time, missy =)
I hope you're alright <3
send message

serbitar

wrote...

D'oh. I forgot that you did your animal grooming stuff! Did you poison somebody so you could work there? =O Sorry I didn't text back until today, I didn't check my phone until this morning ><
send message

serbitar

wrote...

On youtube now? Oh dear. Have you been causing trouble again? =O
send message

serbitar

wrote...

Ah, what work experience are you doing? I think you've told me before, but I have a memory like a sieve with the mesh missing >< Stress stress stress! I'm NEVER going to be ready for my exams! And I have the worst three this week, great fun!
send message

serbitar

wrote...

Emaaaa. We never talk anymore! How is everything, missus? Life going okay and that?
send message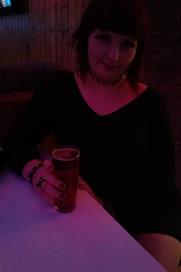 offline

Send message
Add friend
Add to hotlist
Rate member
Report member
one 2 one
View photos (6)


Favorite Things
Food
Steak, Chocolate macarons! <3
Music
Synth, Electro, Depeche Mode, Mesh, IAMX.
TV Show
Friends, Anime, Frasier, Peep Show.
Movie
Batman/Saw 1,2,3,4,5/The Lost Boys/Battle Royalle
Author / Book
Manga, Belle Du Jour, Cookery Books.
Night Club / Bar
Corporation
Animals
Hedgehogs, Chinchillas, Degus, Donkeys.
Place
London

Details
Last logged onCool Tools™ only
Advanced statsCool Tools™ only