Name:
tara
Details:
41 years old (Scorpio), Female, Single, Bisexual
Location:
gillingham,kent, Kent, United Kingdom
Profile Link:
www.faceparty.com/bowtosassy


In my own words


Looking for women in my area, if your interested in having some fun, drop me a message

Blog
4 posts | view all
untitled

THE PERFECT GUY

find a guy that calls u beautiful instead of hot,who calls u bac when u hang up on him.
who will stay awake just 2 watch u sleep.
wait 4 the guy who kisses your 4head,who wants 2 show u off 2 the world when u r in your sweats,who holds your hand infront of his m8s.
wait 4 the 1 who is constantly remindin u of how much he cares about u n how lucky he is 2 have u.wait 4 the 1 that turns 2 his m8s n says....thats her

The Meaning Of Life...


i drink,i breath,i love,i write,i fantasize,i observe,i embrase,i deal,i need,i believe,i amaze,i cherish,i hope,i care,i impress,i break.xxxx Beautiful Individual That Causes Hardons (BITCH)
JUST DONT WANNA GET HURT ANYMORE :-( :-(
Kik:T444JHX


Comments
10 of 156 | post a comment | view all

goldentoken

wrote...

Mmmmm wow u looking too sexy :)
Hope u having a nice weekend
Are u on kik or what's app
send message

davidm86

wrote...

hey how are you? i saw your profile so i thought id say hi! i have to say you look gorgeous! x
send message

mattsmith

wrote...

ah babe :( u met some right losers? xx
send message

jacko85

wrote...

not bad thanks gorgeous just layin in bed watchin tv... bored too :( maybe we could entertain eachother ;) xx
send message

jacko85

wrote...

i ride... bit cold to come up rite now hun :( lol x
send message

secretgentleman

wrote...

You know, you might be asked to leave soon. You're making the other girls look really bad on here x How are you today? x
send message

danny_boy_boro

wrote...

hey ur amazingly stunning :)
love to chat get know u
fancy it sometime
get in touch hunni :)
danny xxxx
send message

dundeetam

wrote...

really want to chat do u use msn?xx
send message

seanieboy18

wrote...

hey local girl hows you x
send message

yesguy

wrote...

Hey there, hows u? I know this is a random one, but wondered if uve ever had any interest at all hun in being in front of the video camera? Have a look at my site at all anyhoo and let me know what u think: www.moneymakerfilms.com. Ta. Xx
send message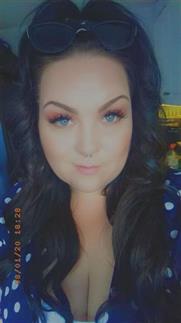 offline

Send message
Add friend
Add to hotlist
Rate member
Report member
one 2 one
View photos (145)


Favorite Things
Food
french,italian,chines e,indian n my cookin.
Music
80s,club,rnb,classic rock,alsorts
TV Show
csi,missing,ghost whisperer,cold case,suprnatural
Movie
Anything wiv violence and action lol
Author / Book
me read,lol
Night Club / Bar
any club/pub wiv some great tunes
Animals
Only after dark
Person
my kids
Place
in your heart 4 me??
Possession/Thing
mobile,laptop and my cars

Details
Last logged onCool Tools™ only
Advanced statsCool Tools™ only