Name:
Chandandler
Details:
35 years old (Virgo), Male, In Relationship, Straight
Location:
Asgard, Cleveland, United Kingdom
Profile Link:
www.faceparty.com/car_man


In my own words


Im a Geek...And Proud!
I'm was a Model Designer for MMM at Legoland Windsor.
I have a large obsession with Swords and Weapons.
I am Made of Metal.
I have a story for all occasions, and i also like to make up little random ones =].
I have a Motorcycle and Car Driving License, because im a greedy bastard.
I am from some Distant land unknown to man.
My version of the Bible would be faar better.
I have a BA Hons in Furniture and Related Products Design.
I Will design weapons and armour for movies.
I Will design & produce a line of Fantasy Furniture.
I one day hope to dine in Valhalla, The Great Hall of Odin.
Good Quote - "War is in your blood, When pushed, Killin's as easy as Breathin"

http://aiedail-morningstar.d eviantart.c om
www.coroflot.com/dcdesigns


Blog
3 posts | view all
Some of my Fav bands.

Allen - Lande, Amon Amarth, Bathory, Battlelore, Children of Bodum, Disturbed, Dragonforce, Dream Evil, Elvenking, Ensiferum, FairyLand, Falconer, Falkenbach, Finntroll, Firewind, Hammerfall, Helloween, Highland Glory, In This Moment, Iced Earth, Korn, Lordi, Luca Turilli, Iron Maiden, Manowar, Motley Crúe, Mudvayne, Napalm Death, Nightwish, Norther, Ozzy Osbourne, Pantera, Power Quest, Racer X, Rammstien, Rhapsody, Slipknot, Sonata Arctica, Stone Sour, Stratovarius, Summoning, Therion, W.A.S.P

My Worst Day...


Was when i was sent to Earth from my home planet of Car'Vor, just before it exploded, I was sent here to carry on the Duties of My Ancestor (the last Car'Vonian to come ot Earth) the Great Dragon Warrior Holo Holo Tika Tika, to protect the world from other Alien races trying to destroy the world, and from Demons trying to inhabit the world...You may ask how i can prove this?..well thats simple. Have u ever seen an Alien or Demon? No? Thats because im doing a kickarse job

Comments
10 of 553 | post a comment | view all

-superficial-cunt--x

wrote...

:D [email protected]
send message

omfgitsme

wrote...

oh no you didnt just spam my alerts with that message!
send message

-superficial-cunt--x

wrote...

<3
send message

lilcutedeadgirl

wrote...

btw happy freakin birthday XD
send message

jeebis06

wrote...

thanks dude, you too!
send message

gypsy_

wrote...

it's your birthday? happy birthday!
send message

x__razzmatazz

wrote...

HAPPY BIRTHDAY! :D
Hope you've had a grand day, sir. (:
xx
send message

xx-beckyg-xx

wrote...

happy birthday gorgeous. <3
send message

omfgitsme

wrote...

great dragon warrior? say whaaat? hahaha :D
send message

omfgitsme

wrote...

aha, no thank you :P x
send message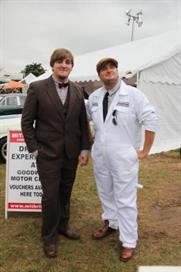 offline

Send message
Add friend
Add to hotlist
Rate member
Report member
one 2 one
View photos (215)
View videos (8)


Favorite Things
Food
Lasagne, Spicy foods, I make excellent Chilli
Music
Anything with Talent.
TV Show
Top Gear, NCIS, America Chopper, Buzzcocks, QI
Movie
(80's films) TNMT, Ghostbusters, He-Man
Author / Book
Eddings, Weeks, Paolini, Tolkein, Rowling.
Night Club / Bar
No Thanks
Animals
Bear
Person
my godson/nephew and my neice
Website
Click here to view
Place
The Open Road
Possession/Thing
My Motorbike and my Grandad's WW2 Dog Tags

Details
Last logged onCool Tools™ only
Advanced statsCool Tools™ only