In my own words


Things i love; chocolate, ice cream, cuddles, ppl who call me just to say hi, lolli pops, the cold side of the pillow, tequila, kissin in the rain, dancin in the snow, singin in the shower, playin on the park at night time, holidays, gettin drunk in the day time, bein on the moors, bein at the beach, randomness, my family, my friends, seein ppl smile n knowin its coz of me, laughin till snot comes out of my nose, spendin all day in bed, christmas, camp fires,individuality, myself. Things i hate; arrogance, closed mindedness, the fact that chocolate makes u fat, bein lonely, ppl who think they are defined by what they own, animal cruelty, the fact we are destroying our planet, liars, players, selfishness, ppl who park on the pavement, seein ppl in bad relationships, losing things, feelin insecure, bad hair days, religion, war, hatred, jealousy, myself.

Blog
2 posts | view all
Who I am

Does listening to My chemical romance make me Emo? Does wearing Reebok classics make me a chav? Does the fact I like alternative festivals make me a hippy? Does wearing black make me a goth? Does enjoying sex make me a slag? Does wanting to be educated make me a geek? Does finding other women attractive make me a lesbian? Does getting drunk make me a party animal? Does smoking pot make me a druggie? Do I need to label myself to justify who I am? Do u need to label me to justify who you are?

In A Perfect World...


I am not a perfect girl, my hair doesnt always stay in place and i spill things....a lot! Im pretty clumsy and sometimes I have a broken heart. I sometimes fight with the people I care most about and I have days when nothing goes right, but when i think about it, and take a step back, I remember how amazing life can truly be and think that maybe, just maybe, I like imperfection.


Comments
10 of 167 | post a comment | view all

drsaucysteve

wrote...

saw ur pic and had to tell u i think ur stunning add my msn if u like its [email protected] so we can chat more ? xx
send message

will_cornish

wrote...

Hello. Cool profile. You seem interesting so I thought I would say hi. You look great in your pictures. How is the day treating you so far? X
send message

jameslamodelle

wrote...

you should have something better to do in Devon, though sometimes i like to go to Devon for something better to do, then i end up not doing much at all, but that's just how it is in Devon!you look divine though,, what's going down with you then?i like your style x
send message

liv_2_sk8

wrote...

hey... sup?
send message

eatugirl69

wrote...

hey hunnie
can u add me plz
[email protected]
send message

podder19

wrote...

WOW.
send message

ozsity05

wrote...

hi
send message

chrism77

wrote...

hey there cheeky chick lisa.... how is your fine self today?x
send message

l4343

wrote...

Hey, how are you? Loving your profile. I'm online on msn now if you fancy having a chat [email protected] Speak soon xx
send message

eltro-boy

wrote...

Hi new stalker. I did wonder when the company was going to replace the last one, she was getting on a bit to he honest and wasn't surprised when she collapsed. Do you know if I have to pay for the removal services?
Hi xD
send message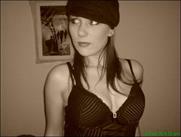 offline

Send message
Add friend
Add to hotlist
Rate member
Report member
one 2 one
View photos (96)


Favorite Things
Food
jam and cheese sandwiches!
Music
green day,portishead,pink,killers,foofight ers...
TV Show
simpsons
Author
whoever wrote the gruffalo
Movie
anythin funny or scary
Night Club / Bar
chocolate bar
Animals
My rabbit ;)
Website
Click here to view
Place
Dartmoor
Possession/Thing
independence

Details
Last logged onCool Tools™ only
Advanced statsCool Tools™ only