Name:
Iateyourcookie
Details:
33 years old (Aries), Male, Single, Straight
Location:
Birmingham/Lincoln, West Midlands, United Kingdom
Profile Link:
www.faceparty.com/colon_commando


In my own words


I live in Birmingham. Ive X-rayed toddlers and smelly middle schoolers. Ive been lost in Poland. Ive taken the wrong train more times than I can count. I adore grammar (and occasionally defy it), sleep past noon, and only like to cook when its not a necessity.

Now that that's out of the way, heres a little bit about me:

- I drink milk straight out of the jug (don't worry, Ill get my own jug)

- The first thing I do when I get home is change into comfies (pyjamas, anything but real clothes)

- I use phrases like cool beans and awesome blossom, which some find geeky. I, however, think they are cool (beans)

- I correct peoples grammar (in my head)

- I adore meat. Seriously. They call me the carnivore

- There is not a single country I don't want to visit

- I make a mean cheesecake! (from scratch).

If you'd like to know more drop me a message.. I don't bite.. Unless you're a cheesecake!

In A Perfect World...


... there would be no prejudice, no wars, no power struggles, no leaders to point us at false goals, no need to achieve worth in society. A perfect world would have everybody happy with themselves regardless of other peoples views. A perfect world would be one that is forgiving without the need to rectify. A perfect world wouldnt need to fight for freedom or rights. A perfect world would not be this one.


Comments
10 of 20 | post a comment | view all

james_d_gr8

wrote...

Cool profile!
send message

alyys

wrote...

Your bio is absolutely brilliant, I can relate to a lot of them and I LOVE cheesecake, preferably a strawberry one with actual strawberries on the top! How are you doing today?
send message

klm25

wrote...

Alright lazy bum!! What you been up to? Xx
send message

klm25

wrote...

Oi!!I smell like roses :p Lol did you know I just looked at your profile again?!!! I'm sorry I'd never ignore you intentionally, your lips are too pretty :p I'm good, you?
send message

cjstephen

wrote...

yeahh amm well thanks :) x
send message

cjstephen

wrote...

heyy :)
hows u?
send message

tottytash

wrote...

Yea ok its pretty long on hear if you send me your number we can talk. Ive not got any msgs left on hear x
send message

tottytash

wrote...

Ive not really been up to much. I went to a charity concert last weekend chime for change. It was on the tv did you see it?x
send message

jaymesworld

wrote...

Thanks for stopping buy. Do come again.
send message

dreytings

wrote...

sure, send me your name by comment. won't risk sending you mine in case you accept comment by accident, not keen on half the weirdos on here adding me :)
send message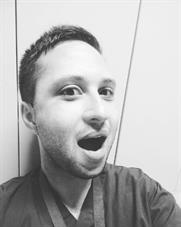 offline

Send message
Add friend
Add to hotlist
Rate member
Report member
one 2 one
View photos (30)


Favorite Things
Food
Chimichangas
Music
Industrial metal, Hard rock, Soft rock
TV Show
Lost, Family Guy, 24, X Files, Dexter, Homeland
Author
George Orwell
Movie
Equilibrium, The Machinist, Children of Men
Night Club / Bar
Depends on my mood
Animals
Cats
Person
MLK, Malcolm X, George Orwell
Place
Dubai, Maldives, Hong Kong
Possession/Thing
My, Car, My bed...ZzZzZ

Details
Last logged onCool Tools™ only
Advanced statsCool Tools™ only