In my own words


I am me, an individual, unique, honest, trustworthy, funny, random and just a tad crazy.

I love my mates too bits, You know who you are!! I love having a laugh, music - signing, writing lyrics, watching tv, looking mad with my fashion sense.. quite daring most of it :-P, clubbing, pubbing, Salsa Dancing, spinning, yoga, Swimming, meeting new peeps, piercings, tattoos - designing etc. . .

I LOVE travelling too, I've not been a lot of places but there's only so much time you can get off work lol.. I've been Greece twice, Spain four times, Portugal once & Hungary sixteen times.
I work with animals and manage people.. Best of both worlds!

I'm the kinda girl that know what she wants (and who) I'm curvy and random and have come to the relization that men like the curvy girl and not the size 0 sitting in the corner.. Do you agree??

My Dream Date...


A nice meal and drinks with a kind and genuine man


Comments
10 of 695 | post a comment | view all

hitch2010

wrote...

Hey, looking good.... Do you use snapchat? X
send message

maverick372

wrote...

Hey beautiful how's you. Up to much?x
send message

julesface

wrote...

Wow!! Very cute, very sexy... Hope you don't mind me saying?
Jules xx
send message

fustookey

wrote...

omg let me cum deep inside u
send message

mitchy1987

wrote...

hot pics hun! you ok? xx
send message

dracula3

wrote...

Very sexy!! Do you mind older guys flirting with you x
send message

lazzapaul

wrote...

may i add your skype?
send message

callum01

wrote...

god I want you sat on my face right now X
send message

the_other_half

wrote...

You are stunning! Looking great in your pics xx
send message

whatwhenwhere

wrote...

Very yummy! Check out my new photo lol Want to help me try that? xx
send message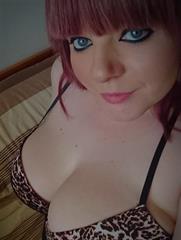 offline

Send message
Add friend
Add to hotlist
Rate member
Report member
one 2 one
View photos (248)


Favorite Things
Food
Tuna, Garlic mayo, strawberries & blueberries
Music
Rita Ora, Rihanna, twenty one pilots, slipknot
TV Show
Mighty Boosh, 24 hrs in A&E, The Apprentice
Author
Sue Dallas
Movie
Alice in Wonderland, The Human Centipede!!
Night Club / Bar
Bars
Animals
My cat & Guinea pigs (Anthony & Simon)
Person
My mum!
Website
Click here to view
Place
My bed
Possession/Thing
My tattoos!

Details
Last logged onCool Tools™ only
Advanced statsCool Tools™ only