Name:
The Notorious GreyMeister
Details:
41 years old (Virgo), Male, In Relationship, Straight
Location:
Llanelli, South Wales, United Kingdom
Profile Link:
www.faceparty.com/greymeister


In my own words


Sapnin en Peeps,Welcome too ma Crib..Im from Llanelli ,South Wales.I dont bother with this website because its fucking shit so bye bye... Liverpool Fc :)

My Dream Date...


Danielle Lloyd,Eliza Taylor Cotter,Paris Hilton,Indiana Evans,Jennifer Ellison,Michelle Marsh,Katie Downes,Amii Grove,Tina o'Brien,Jessica Simpson,Christina Aguleira,Elisha Cuthbert,Ashlee Simpson,Rihanna,Sienna Miller,Jessica Alba,Mischa Barton,Cameron Diaz,Christina Milian,Carmen Electra,Heidi Klum,Nicole Ritchie,,Katie Downes,Britany Murphy,Kirsten Dunst,Alex Curran,Emma Bunton,Ashanti,Kate Hudson...Blah Blah Blah!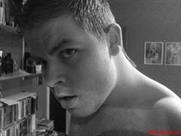 offline

Send message
Add friend
Add to hotlist
Rate member
Report member
one 2 one
View photos (10)


Favorite Things
Food
Jaffa Cakes,Mmmm!!
Music
RnB,Hip-Hop,Funky House,Trance....Woteva!
TV Show
Big Bro,Max & Paddy,Friends,Everybody Hates Chris
Movie
Goonies...American Pie 1,2,3...80's Films Rule!
Author / Book
Dnt read just look at pics!!
Night Club / Bar
Anywhere Wiv Awesome Tuneage N Tidy Shant
Animals
Animal From The Muppets!!
Person
Stiffler!! How Awesome Is D Stiffmeister,eh eh!!
Website
Click here to view
Place
My Bedroom,Snuggled Up In Ma Bed!
Possession/Thing
Laptop, Mobile,Video Camera & My Ca

Details
Last logged onCool Tools™ only
Advanced statsCool Tools™ only