Name:
Matt
Details:
33 years old (Gemini), Male, Single, Straight
Location:
On a rock in the middle of the irish sea!, Isle of Man, United Kingdom
Profile Link:
www.faceparty.com/manx7


In my own words


Well my name is matt & i'm a lovin & caring lad who wud give his life to protect my mates & family, the reason i say this is because one day they will be gone & then it will be 2 late 2 do anything about it and oh yeah come on tha wolves ;0) If ur in2 immortal technique or any dutty drum n bass get in touch & i myt c what i can do! Nuf respect 2 all da heavy hitterz:Andy c,clipz,die,brockie,hype,swift,nicky blkmarket,bryan g,pendulum,friction,ss,micky finn,TC,roni size,hazard,goldie,sly,pleasure,ruff y! Mossiv big up 2 my mc soljaz:Bassman,trigga,ragga twinz,skibz,det,shabz,foxy,majika,fa t man,presha,krafty,sp,fun,harry shotta,tonn piper,eksman,herbzie,nutcrakka...r.i.p stevie hypa d!!

Blog
5 posts | view all
army!

joinin the army around july to be a dog handler/trainer! gonna b good....new life and new people...i think everyone needs a change now and then but this is serious....i will b able to blow shit up for a living Muhahahahaha! :0)

In A Perfect World...


we wud all be rich and happy....i wud just say me but whats the point if kno one else around u aint happy either ennit!


Comments
10 of 130 | post a comment | view all

vickyxxxmwah

wrote...

sweet fuck all same shit different day
send message

vickyxxxmwah

wrote...

was ok tar wa bout urs yeh shes fine tar can be a lil bitch though bullys ma lil boy rotten
send message

vickyxxxmwah

wrote...

ello cutie how u bin x
send message

kirstie-custard

wrote...

hows uu
send message

xkatie-wv10-x

wrote...

Hahahahahaha :O
Shurrrrup!
i Just Got Bk From Spain Lost Mi Fuckin Fone When i Wus Drunk Lol
Got Nuh Wun Now Dow..
Ow Yuuh Mussssh
xx
send message

hotlippedhoneyjessie

wrote...

Hey gorgeous, just thought would drop you a line as not heard from you in fucking tiiiime... Hope you're well, troublemaker xxx
send message

funky_green

wrote...

JUNGLIST MOVEMENT
send message

xkatie-wv10-x

wrote...

Local Shexi Boii
Thats What ii Like To See... x x
send message

kirstie-custard

wrote...

eloooo loool
i fuckerd steve_c off lol
send message

laydeekillaxx

wrote...

yeayea shud be. got my tickets for global gatherin ,x,
send message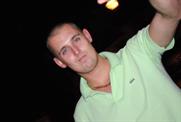 offline

Send message
Add friend
Add to hotlist
Rate member
Report member
one 2 one
View photos (148)


Favorite Things
Food
same as the type of girl...summat exotic lol ;0)
Music
Tha Drums n Bass! jungle,liquid,4/4,rap... .
TV Show
Family guy, bear grylls (bad boi) lol
Author
Urm.... does zoo or nuts count ha ha!
Movie
Scarface,goodfellas,s uper troopers,planet terror
Night Club / Bar
Q club, custard factory, oceana ect...
Animals
Snake's, HONEY BADGERS!!!!....me ;0)
Person
Mum x (bst m8 chris n all my messy ravin lot lol)
Website
Click here to view
Place
Inno in the sun,global gatherin,iom,wolves!!!!
Possession/Thing
Ma bling and my telly and cinima system!!

Details
Last logged onCool Tools™ only
Advanced statsCool Tools™ only