Name:
Glitter Eyes
Details:
30 years old (Cancer), Female, In Open Relationship, Bisexual
Location:
Stirling, Scotland, United Kingdom
Profile Link:
www.faceparty.com/nitemarbeforxmas


In my own words


My music tastes includes David Bowie, Led Zeppelin, The Who, Cream, Pink Floyd, Cat Stevens, Alice Cooper, The Doors, The Madness, Jimi Hendrix, The Velvet Underground, The Beatles, Foo Fighters, The Rolling Stones, The Stooges, Harry Belafonte, Motorhead, Creedence Clearwater Revival, Simon & Garfunkel, Bob Dylan, Nine Inch Nails, The Go! Team, Louis Armstrong, Motown, The Smashing Pumpkins, Eric Clapton, The Blues Brothers, Metric, The Kinks and Janis Joplin. To me, I think a quote from Batman Begins really sums it all up as to how I view people. Its not who you are on the inside, but what you do that defines you.

Blog
4 posts | view all
George Carlin on Death

I think the life cycle is all backwards. You should die first, get it out of the way. Then you live in an old age home...You work 40 years until you're young enough to enjoy your retirement. You do drugs, alcohol, you party, you get ready for high school. You go to grade school, you become a kid, you play, you have no responsibilities, you become a little baby, you go back into the womb, you spend your last nine months floating...and you finish off as an orgasm

In A Perfect World...


Okay, if it isn't painfully clear, I'm a smartass. But that doesn't mean I'm not friendly! I just, can be very cynical. But the smile is sincere :D Love is intangible and defies gender, so, I'm not gay, bi, or straight. I'm just me. But Currently, if you're not female, I'm not really interested in hearing from you. Its nothing personal, but, I'm wanting to hook up with women only.


Comments
10 of 24 | post a comment | view all

punky-gurl

wrote...

stunning ladyx
send message

nympho_nona

wrote...

thanks =) totally loving the hair =) xx
send message

6bump_n_grind9

wrote...

pure beauty! hope your well xxx
send message

duck_shabba_fox

wrote...

God ur gorgeous :) x
send message

preowned

wrote...

cheers for the comment. i miss that hair... fucking work and no weird hair rule :( how u doing?
Jx
send message

kisspeggysue

wrote...

like the red hair best. x
send message

lezkitty

wrote...

wow loving the hair colour hun hows you x
send message

baronbuns

wrote...

i realise you dig the ladies but everyone likes compliments right? GREAT hair x
send message

les_girls

wrote...

hey sweety add me please
[email protected]
send message

fluffy-horns

wrote...

hey i live in scotland too...my names ami ..little bit crazy but im sure thats ok hehe
wb
x
send message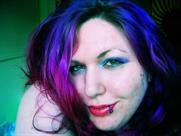 offline

Send message
Add friend
Add to hotlist
Rate member
Report member
one 2 one
View photos (67)


Favorite Things
Food
any ethnic foods
Music
Read Above.. but short version is classic rock
TV Show
Bones, Spongebob, Ben 10,Monty Python, Family Guy
Author
Ray Bradbury, Kurt Vonnegut,Shakespeare
Movie
billy Wilder, Tim Burton, (ask, its a long list)
Night Club / Bar
The Drum & Monkey in Glasgow
Animals
Cats! I mean, comeon....Catwoman's a fox!
Person
Katherine Hepburn, geeks, bohemians
Website
Click here to view
Place
Italy if I ever learned the language :-p
Possession/Thing
My Kitten Zeppelin! :D

Details
Last logged onCool Tools™ only
Advanced statsCool Tools™ only