Name:
Tom
Details:
39 years old (Aquarius), Male, Single, Straight
Location:
Queenstown, New Zealand, Wiltshire, United Kingdom
Profile Link:
www.faceparty.com/plainlazycarpo


In my own words


1st of all, i love to surf, ski and snow board. I go to france every winter to work and at the same to meet loads of great people and hit the mountain daily and have loads of partys, best life ever.
Ask me anything u like, im very chatty n random,I like all music that pleases my ears.I like to do loads of things in my life,theres so much i hav done and want to do it would take me to long to write,basically havin a luagh,chillin,surfin,climbing. I couldn't live wivout my m8s,the funniest times time ever have been wiv them guys n girls(oh the hillarity)u kno,the usual stuff*Im a pretty down to earth guy with a huge zest for life,i love my life n wouldn't change it for anything,well maybe 1 or 2 things,have fun..
but be safe wiv it.

The Meaning Of Life...


THE MEANING OF LIFE IS Have fun,B happy,Life live,Find love,Learn interesting stuff,Try new experiences,Dont give up,Dont die regreting that u could have done more with ur life,If u make a mistake then learn from it,Move on,Dont waste it.Ur only here once so grab hold of YOUR life & live it,Never ever let go cos u dont know wot is round the next corner.always listen to the good things people hav to say about u & never the bad. Thanx 4 YOUR time, Tom Carpenter


Comments
9 of 9 | post a comment | view all

cheekybabylulu

wrote...

hello you
how are you ? I haven't spoken to you in ages. :( how the hell are you ?... What have you been up to lately?...snowboarding and skiing ?...
write back xx
send message

cheekybabylulu

wrote...

Did you get my message ??write back xx
send message

alice84

wrote...

Hey it's jack vettriano his got quite a few like this Xx
send message

cheekybabylulu

wrote...

hey where did you go ??? :( booo to youuuu
send message

cheekybabylulu

wrote...

oh cn't believe you left me :( booo hope to chat to you tomoz :) write back xxx
send message

cheekybabylulu

wrote...

Hey you come back on MSN it took me abit longer lol I hope you will be back soonies :P write back xx
send message

j4ck455_babe

wrote...

YOU'RE A BABE.
send message

newcastledoorman

wrote...

Look not for beauty nor whiteness of skin, look for a heart that is loyal within. For the colour will fade,
the skin will grow old, but a heart that is loyal will never grow cold
hugs and kisses from sam
thank you for checking me out...take care
send message

kyliemajor69

wrote...

hey i werent at the comp sorry dint realise u private messaged me but im trying to do it now so accept it please :) and thats ok...have to comment cos i ran out of messages! :(
send message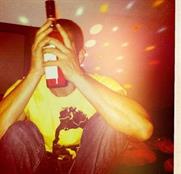 offline

Send message
Add friend
Add to hotlist
Rate member
Report member
one 2 one
View photos (44)


Favorite Things
Food
I have a taste for everything
Music
Anything which makes me move,
TV Show
i like documentarys
Movie
I love films, im a film nut
Author / Book
Linwood Barclay, Tony Parsons,
Night Club / Bar
If it sells drink n plays good music im there,
Animals
Elephant (i never forget)
Place
Saunton Sands, a beach with waves
Possession/Thing
Member name

Details
Last logged onCool Tools™ only
Advanced statsCool Tools™ only