Name:
lauren
Details:
32 years old (Aries), Female, Single, Bisexual
Location:
Portsmouth, Hampshire, United Kingdom
Profile Link:
www.faceparty.com/s3xii-69


In my own words


Lauren :]
I never know what to write in these things; so I'll write a list that sums me up.

Family & friends, Going out, Clubbing, Vodka, Getting drunk, Nights in, Parties, Holidays, Memories, Photographs, Good times, Fake tan, Make up, Lipgloss, Shoes, Sunbathing, Clothes, Bubble baths, Gym, Swimming, Extensions, Short shorts, Jewelery, Bags, Purses, Shopping, Laptop, Blackberry, Pepsi, Jagerbombs, Liquid, Walkabout, Yates, Dancing, Laughing, Meeting new people, Long walks, The beach, Getting fit, The wii fit, Drives, Nice cars, Dvd nights, Skins, Shameless, Family guy, Cinema, Nice quiet drinks, Rose wine, Lilies, Smiles, Snuggles, Hair being stroked, Neck kisses, Compliments, Perfume, iPod, Chocolate buttons, Lazy days, Amazing kisses, Picnics, Sunbathing, Sleeping, Lay ins, Spain, Men, Cuddles.

From Now On...


I'm focusing on myself!


Comments
10 of 72 | post a comment | view all

arsenal__girl

wrote...

yur gorgeous (:
send message

lisa69-69-69

wrote...

hey hun wanna chat xx
send message

jamespthedaddy

wrote...

nice page, slight poser, but you get away with it, how are you? fancy a chat? x
send message

nige0160

wrote...

allright hunni hows you on this mighty fine day??
send message

zand22m

wrote...

sexy but shy x
send message

upforfun_2006

wrote...

lookin hot in ur pic. wanna meet? xxx
send message

reptalion

wrote...

hiya..juss found ur prof temptin...so thought of droppin ya msg..how r u.. x
send message

chris_p_bacon_

wrote...

yo
send message

the_ace_of_clubs

wrote...

hey how are you? thank for adding me hope your having a good weekend so far x
send message

croydonboy2004

wrote...

i think ur well fit. if u got msn den can i sv ur addy plz? message me bk xx
send message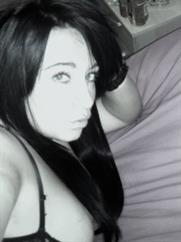 offline

Send message
Add friend
Add to hotlist
Rate member
Report member
one 2 one
View photos (33)


Favorite Things
Food
Got too many favourites
Music
Dance, Hardcore, Trance, R&B, Drum and Bass
TV Show
Skins, Family Guy, Shameless
Movie
Horrors, Comedies, Chick Flicks
Night Club / Bar
Liquid, Walkabout, Yates
Animals
Lion
Person
Can't choose a favourite
Place
Bed or a club

Details
Last logged onCool Tools™ only
Advanced statsCool Tools™ only