Name:
Rocker Sarah
Details:
35 years old (Gemini), Female, In Relationship, Straight
Location:
st helens, Merseyside, United Kingdom
Profile Link:
www.faceparty.com/sazzledazzle28


In my own words


Im Sarah,
Im 5ft8 i think
i work in river island =D
i love shopping
ive just got two gorgeous kittens
i liek to look a little different but classy
i love to animate and draw
and those peole who just copy images of google and say they can draw really fucking irratate me

Blog
3 posts | view all
meh

life... as it stands at the moment is... well not really hvaing a point lol
i just seem to be going round in damm circles these days, having the same conversations, same things to do everyday, i need abit of excitement, sad to say my kitchen still isnt decorated, i cant find anynoe to plaster my wall without having to pay money i dont have, and tomorrow night is gonna be brill, cause im going out and i can just relax for that few hours =D

This Week's Plan...


stay alive, look after vince the hamster along with vivienne and fluffy the kittens


Comments
10 of 86 | post a comment | view all

offishal

wrote...

So, obviously you passed the aesthetics test or shallow men (such as myself) would never contact you, but a buddy of mine was looking over my shoulder and claimed that – without a doubt – your profile looked to have been written by a guy; its just too perfect, minus the incompletion. He claimed that any account with so little information is a dead giveaway. I came to your defense, of course, but now weve got a £20 bet going as to whether or not youre real. So I wondered, just between us, am I ab
send message

mudderfudder

wrote...

lovely profile lol when we banging then?? xx
send message

mrcolour

wrote...

ello you :)
send message

grunge_matt2005

wrote...

Maybe, I have a strangely good memory, if you're the person I remember, you worked at dawsons or something?
send message

grunge_matt2005

wrote...

Just saw your face on the shoutout thing, I can't help but think I recognise you, have we talked on this before?
send message

faulky

wrote...

hey, hows u? fancy a chat? xxx
send message

dodger2007

wrote...

add me up, my address is on my profile :)
send message

__toddy__

wrote...

hey! cool tattoos! :) lovin the hair too, looks wicked! ur pretty cool! message me if you fancy chattin! :) x
send message

dodger2007

wrote...

I'm good thanks... well, actually I'm bored but saying I'm bored sounds all moany and stuff.
how are yooou? x
send message

baronburr

wrote...

love the ink, absoloutly beautiful :)
send message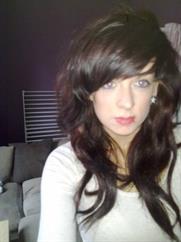 offline

Send message
Add friend
Add to hotlist
Rate member
Report member
one 2 one
View photos (17)


Favorite Things
Food
Mint chocolate chip ice cream
Music
indie, metal, screamo, emo, bit o trance
TV Show
oc, peep show, the inbetweeners, mighty boosh
Movie
lots, ask me
Author / Book
stephen king
Night Club / Bar
Zoo bar, the kray
Animals
....
Person
Tim Burton,Paul Weller,Jim Carrey, Ben Stiller
Website
Click here to view
Possession/Thing
tatoos, piercings

Details
Last logged onCool Tools™ only
Advanced statsCool Tools™ only