Name:
adam
Details:
40 years old (Virgo), Male, Single, Straight
Location:
from blackpool / fleetwood, Lancashire, United Kingdom
Profile Link:
www.faceparty.com/sexualhealin


In my own words


deep thinker , irrationally behaving , sophisticated cat that speaks before i think , leaps before i look and acts out of turn .... into the glad times and never the sad times .... move onwards , forwards but never backwards because theres definatley no future in the past.... passions ? hobbies ? past times? .... include music , shopping for things i already own 5 of , watching old school movies whilst spooning on the couch , haribo sweets , ben and jerrys ice cream .... not intested in mouthy bad attitude people , scatty birds , chavvy scrotes.... its not big and its not clever !! if u share the remotest intrest with any of the above or think i may share ur intrests then feel free to converse !!

The Meaning Of Life...


retro sportswear , adidas trainers , haagaan daas , ibiza , music , coffee , haribo , partying , culture , restaurants , friends , workin n playin hard , gym , holidays , shopping , being nice!!!


Comments
10 of 36 | post a comment | view all

soopachezz

wrote...

lol, I like the date stamp, just in case I'm a bit dense :p
send message

soopachezz

wrote...

Oh yeah we do that all the time, right after our nail painting and eyelash curling sessions
send message

soopachezz

wrote...

Ahaha, bless you. I'm sure it was a very manly aww, like the kind you do whilst making fire and hunting.
send message

barclaysbanker

wrote...

you silly (:
send message

mz-self-destruct

wrote...

Thanking you :]
send message

soopachezz

wrote...

Why thank you dear :)
send message

x_dye_x

wrote...

im like an egg ... either gettin smashed or gettin laid....
hahaha
noooiccee
send message

likklestar

wrote...

im perving your profile 4 a lil while so leave me be please!
send message

dreadlock_shotta

wrote...

ahhhh, mi bumba self, jas bi herdin, an na mi back a hat mi.
send message

dreadlock_shotta

wrote...

mi fil lo rasta, wat b gwanin?
Every mikkle makes a muckle pon da rass, si mi?
selassie.
send message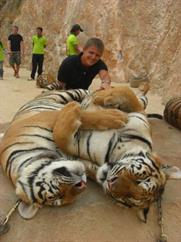 offline

Send message
Add friend
Add to hotlist
Rate member
Report member
one 2 one
View photos (110)


Favorite Things
Food
rose wine , with doritos n dip , italian , spicy
Music
house , techno , indie , bands , 80s , 90s ,
TV Show
mighty boosh , extras , alan partridge , office
Author
dave courtney , chopper , lenny mclean ,
Movie
old school swayzee or tom cruisemeister
Night Club / Bar
space ibiza , leeds , manchester , liverpool
Animals
any , i love the little swines
Person
ronnie ardon
Website
Click here to view
Place
ibiza , thailand
Possession/Thing
laptop , phone , camera , ipod , wallet

Details
Last logged onCool Tools™ only
Advanced statsCool Tools™ only