Name:
Meghan
Details:
32 years old (Capricorn), Female, Single, Straight
Location:
carrickfergus =(, Northern Ireland, United Kingdom
Profile Link:
www.faceparty.com/xxx_playgirl_xx


In my own words


well the basics is im jst ur average girl...lyks 2 hang bots wif er m8s, lvs 2 Party n meetin new people, Not Really Takin Life Seriously As Im Only 20Yrs Old, Hey Live Alittle, Let Your Hair Dwn & Tke A Few Shots, You Never No Wer Youll End Up! On The Roads --> 13/03/09.. Who Said Fri 13th Is Unlucky Lol .. im free [&] single.. But If Your A Cocky Fuker Tht Lyks 2 Pose In Front Of The Camera As Much As I Do,, Dont Bother Rytin 2 Me Because "Your So Vain" (8)! bt ok have 2 admit it ..im a little random sumtimes but who isnt! the TRANCE music.. if you dont lyk mi boys AVB, tesito, Paul Van Dyke, Matt Hardwick, Sasha, Richard Durran, Above&Beyond ETC Then Ur Soooo Not Up2 Mi Standard! =) Ne Questions Leave Moi a Comment & I WILL Get Bak 2 You! Plzzzz Dont Ask 4 Mi Msn Because ..***I dont Av Msn !***


Blog
2 posts | view all
Djs I Have Seen ...

ARMIN VAN BUUREN, Fatboy Slim, Pete Tong, Sasha, Paul Van Dyk, Eric Prydz, Adam Sheridan, Sander Van Doorn, Eddie Halliwell, Lisa Lashes, Alex Kidd, John Oallaghan, Ferry Corsten, Paul Oakenfold, Tiesto, Deadmau5, Atnton Powers, DJ Mog, Yousef, Tom Novy, Harry Choo Choo Romero, Erick Morillo, David Guttetta, Mono De Jong, Dirty South, Jude Jules, Matt Hardwick ... Ne 1 Can Top It ? Lol

My Mum Says...


Have You Got Your Key?


Comments
10 of 367 | post a comment | view all

dutte

wrote...

HIYA LOVING THE PICS U SEEM A CLASSY LADY SO CLOSE 2 XMAS WOULD B NICE 2 FIND SOME ROMANCE CHECK ME OUT PLZ IF U FEELING ME AND WANNA CHAT MORE SEND YA NUMBER SAVES ALL THE WAITING 4 REPLYS AND DONT CUM ON HERE MUCH XXX
send message

ruffiyan

wrote...

hey there hottie
send message

chunkymonkey1982

wrote...

hi hun how are you love the profile, if wanna chat sometime message me lee x
send message

gaz_master11

wrote...

Just rated u a star so u no x
send message

h_sweet22

wrote...

[email protected]
send message

rfcrossco

wrote...

gawjus xxx
send message

seven_777

wrote...

wow ...now this is some serious posing going on lol ! looking sexy though ;) let me know if u wana chat
send message

roger2k7

wrote...

definatley right there, shud b gettin days off with this weather lol, ahh partying on saturday and recovering on sunday x
send message

roger2k7

wrote...

lol not good, too much work, definatley need more partying time thats for sure, what u upto this weekend x
send message

roger2k7

wrote...

ur welcome and not a problem, thank u :P im good thanx just been working and what not...hope all is well x
send message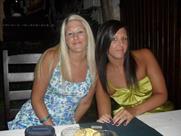 offline

Send message
Add friend
Add to hotlist
Rate member
Report member
one 2 one
View photos (93)
View videos (3)


Favorite Things
Music
ArmanVanBurren,Tiesto ,PVD,Schulz,A&B! (L)
Movie
everything scaryy !
Night Club / Bar
M Club, Beach Club, Box, Kellys!
Person
...Mi Mum*
Place
my bed, in a club :P
Possession/Thing
my fne, hair straighteners, eye liner!

Details
Last logged onCool Tools™ only
Advanced statsCool Tools™ only