Name:
~*~princess kelly ~*~
Details:
29 years old (Scorpio), Female, Single, Straight
Location:
SW London, United Kingdom
Profile Link:
www.faceparty.com/fitbird3uk


In my own words


hellllo thank you for lookin at my profile. Not really sure wat 2 say which is a first cos u can never shut me up! not sure if thats a gd fing or not! Im a bubbly girl tho love getting on it wen i can afford 2 either at a club rave bar watever. I loooove shopping, getin on it with my mates etc, and generally avin a old chin wag bout whatever. Erm gna keep it there cos im just chatin shite so anythin u wana no jst send a msg xx

My Pet Hate...


People who come 2 the UK and just moan about it... if u dont lyk it fuck of back 2 where u come from... im not racist some of my closest mates r from all over the world but thats just grateful... and i dont care wat these dicks say christmas lights wil always be xmas lights... u can shove ur "festival" lights up ur arse x

Comments
10 of 729 | post a comment | view all

justintwantsu

wrote...

Hey chick, What you up2??? Staying in on a sat night is a killer, hope ur gd, message back smiler xxx
send message

joepenn

wrote...

hey, im joe 22 from surrey, manage a bar side of a pub/restaurant, liked ur pics, liked ur profile, av a butch at mine see wot u think, im originally australian now a half cockney ha,
wb joe
got msn, skype or facebook if u fancy a chat, xx
send message

ricroc76

wrote...

wow how i wud like to be the prince of this princess fitbirdxxxx
send message

dj_jaye2006

wrote...

hiya nice picture you look really pretty xxx
send message

dj_jaye2006

wrote...

hiya nice picture you look really pretty xxx
send message

70sshow

wrote...

Evening Missy xx
send message

mark-2010

wrote...

Hey how you doing? Just read through your profile and seen your pics, you look absolutely amazing!! Got much planned this weekend?
Mark
send message

magicjamie

wrote...

Ha that profile made me laugh
send message

giddings2

wrote...

heya gorgeous,
u ok???
jus come across ur profile and thought u were sooo pretty and then read ur profile and u sound real lovely and fun soo thought id msg you :):):)
hopefully ull think im worth chatting to??
u up to much this weeknd??
ps, hope u think im nice enough to chat to :):):) xxx
send message

southerner12345

wrote...

next time use tongues
send message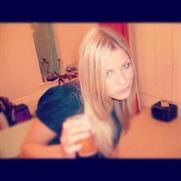 offline

Send message
Add friend
Add to hotlist
Rate member
Report member
one 2 one
View photos (24)


Personal Stats
Interests
Shopping, clubbing, raving, having a giggle
Makes me happy
Going shoppimg, clubbin, seeing my mates, pay day
Makes me sad
rainy days
Perfect Partner
*~* fit, funny, caring, gd fashion sense *~*
Bad habits
wat can i say my mum gave birth 2 an angel 0-:-)
Cigarettes
I don't smoke
Alcohol
I like to get drunk
Race
White / Caucasian
Eyes
Green
Body Type
Slim

Favorite Things
Food
Nandos!! Indian, chinese
Music
DnB, Old skool, 4X4 bassline, garage, Dubstep
TV Show
Eastenders, Britians got talent, X factor etc
Author
Erm katie price?
Movie
Green mile, American pie films, erm...
Night Club / Bar
SE1, Fabrics, China whites, loads
Animals
Dolphins bla all that crap wat a shit question
Person
my mates
Place
malia, anywhere hotter than the UK
Possession/Thing
My car

Details
Last logged on Cool Tools™ only
Advanced stats Cool Tools™ only