Name:
Sopheh
Details:
27 years old (Sagittarius), Female, Single, Open Minded
Location:
Sheffvegas, Hampshire, United Kingdom
Profile Link:
www.faceparty.com/lil_chili_peppa


In my own words


Ok, honestly? I drink too much, smoke too much and spend too much. Im over worked, underpaid and overdrawn. If you get offended easily, I'll offend you. If you give me beer I'll follow you around til you give me more. You can find me in many places, just not in your house. I'll be the one outside in the bushes. Only two things to do in life: Live it and Love it.

From Now On...


I will only reply to people who send me ingenious and inventive messages. No I dont want to chat cos u like my t*ts.


Comments
10 of 161 | post a comment | view all

marydeng

wrote...

HELLO MY DEAR
MAY the peace of the Lord be with you and your household,
My name is Miss Mary Deng, nice to meet you,how are you and everything around you,i hope all is well,if so thanks be to God,my dear i saw your profile and became interested in you,l will also like us to start a friendship that can lead to something intimate,and please l want you to send an email to email address so l can give you my pictures for you to know whom l am.
Here is my email address ([email protected])
send message

thedreamersdisease

wrote...

If you were outside my house, hiding in my bushes, I'd hope you'd have a beer for me too..
send message

disturbedfreak

wrote...

Happy birthday. Congratulations on yet another anniversary of your vaginal escape. Well done I say. x
send message

domlestorm

wrote...

Cool pics, how are you?.x
send message

arctic_sarah

wrote...

Overworked, underpaid and overdrawn? Haha you sound like me! You had a decent weekend? I am hungover. Still.
xx
send message

clueless25m

wrote...

hello hun
how are you doing?
do you got any messenger for a chat ?
send message

clueless25m

wrote...

hello hun
how are you doing?
do you got any messenger for a chat ?
send message

goodguy101

wrote...

hi there
sorry about this random message
but was sat here doing nowt and thought,,....why not message and see who i might end up chatting to
u never know
so heres a warm hi to u
send message

highland8oy

wrote...

Dolly Llama, is that like the Dhali Llamas sister but with large appendages???
send message

nutz_4_it

wrote...

hey hey add me
MSN/LIVE on my profile
send message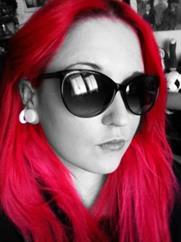 offline

Send message
Add friend
Add to hotlist
Rate member
Report member
one 2 one
View photos (136)


Personal Stats
Interests
Movies, Gigs, Clubbing
Makes me happy
Mates, free beer
Makes me sad
Leslie Garet, paying for beer
Perfect Partner
Someone called Brian - I like Brians
Bad habits
Being Late and I'm too sarcastic for my own good
Cigarettes
I smoke too much
Alcohol
I like to get drunk
Race
Latin / Hispanic
Hair
Purple, Green and Blue
Eyes
Brown
Body Type
Average

Favorite Things
Food
Im a sugar junkie - sweets all the way
Music
Rock, Metal, Industrial, DnB, Electro, Ska, Dub
TV Show
Metalocalypse, Archer, Adventure Time etc
Author
Terry Pratchett, Brothers Grimm
Movie
Anything with zombies!!
Night Club / Bar
Anywhere wear my feet don't stick to the floor
Animals
Pandas, Slow Lorises, Wolves, Monkeys, Marmosets
Person
Dolly Llama
Place
Dreamland zzzz
Possession/Thing
Braaaainz

Details
Last logged on Cool Tools™ only
Advanced stats Cool Tools™ only