Name:
Danniellee
Details:
24 years old (Sagittarius), Female, Single, Straight
Location:
Birmingham., West Midlands, United Kingdom
Profile Link:
www.faceparty.com/lildanyell


In my own words


So basically, it's like this.
I'm Danni, i'm 21 and i'm from Birmingham.
I play card games, xbox games and steam games, but really can't be arsed with mind games.
I drink Lager, Jack or Godfathers. Sourz are also a win.
I'm not on here to fall madly in love and settle down with a bloke and a puppy. I don't particularly have the long term patience for puppies, or a dude.
I have a sense of humour which is usually taken for rudeness, a mindset like a teenage guy and a fondness for films with more action than plot, and games where I can kill shit.
I wear make-up and hair extensions, but they're the only things that aren't natural. I'm happy to have short nails, the boobs that God gave me and skin that isn't mahogany coloured :)
I like to: play with lightsabers, quote films, shout 'FINISH HIM', tie peoples shoelaces together and count in spanish, but i'm pretty fucking awesome over all. I hope.
there's a message button up there,

Blog
For tonight only...
wrote
I am bored. So, i shall add the first 3 people to send me a message with their MSN address, as long as the message includes a joke that makes me giggle :)
you know you wanna help a bored girl out..or not. probably not. But you should...i'm awesome. sort of.
(':

If You Pay Me...


i'd be rich, and you'd be happy


Comments
10 of 864 | post a comment | view all

axel_rose

wrote...

Thank you pretty lady :) xx
send message

drpepper

wrote...

You're amazing.
Rude.
Shoots shit.
Stunning.
Ugh.
Perfect.
send message

johnblackstar

wrote...

you do not strike me as an xbox girl! what you like to play? x
send message

tandem-eden

wrote...

OOo such compliments and from such a gorgeous girl! I'm very flattered :] I'm glad you like the posters, i'm quite the nerd :p xx
send message

noplanb-maybec

wrote...

Oh god!...i have ALWAYS wanted to be the pain in yo ass ;) x
send message

noplanb-maybec

wrote...

you OWE me a facial thanks!!,...text me tomorrow you idjit! ;) x
send message

noplanb-maybec

wrote...

Ummm spaz is an offensive term thank you....i prefer special or mentally challanged :) DEFINITELY skype tomorrow ? x
send message

northernlights

wrote...

Gorgeous. Wud so luv to f*ck ur sexy ass :p x
send message

l4343

wrote...

Morning, how are you? Like your profile so thought I'd say Hello. I'm online msn now if you fancy having a chat [email protected] Add me speak soon x
send message

theonenick2

wrote...

hey cutie, fancy a chat on here or on msn? My msn is [email protected]
hope to chat soon.xxx
send message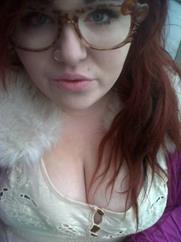 offline

Send message
Add friend
Add to hotlist
Rate member
Report member
one 2 one
View photos (113)


Personal Stats
Makes me sad
Boredom.
Perfect Partner
straight forward, sarcastic, crude
Bad habits
I take the piss far too much.
Cigarettes
I smoke too much
Alcohol
I like to get drunk
Hair
redheaaaad
Eyes
Blue
Body Type
Fuller Figure

Favorite Things
Food
peanut butter cups, toast
Music
real rap (nas, tupac wu tang etc), rock
TV Show
House, two broke girls, lie to me
Author
Dan Brown, Simon Kernick, Shaun Hutson
Movie
Anything Tarantino, Shawshank, Godfather 1&2
Animals
Tiger.
Possession/Thing
My phone & music.

Details
Last logged on Cool Tools™ only
Advanced stats Cool Tools™ only