Name:
Ben
Details:
27 years old (Aquarius), Male, Single, Straight
Location:
shrewsbury, Shropshire, United Kingdom
Profile Link:
www.faceparty.com/rockinbigben


In my own words


Hi my names Ben,i am currently training for the Fire Service, hopefully ill be a full fire fighter soon :).
I love the outdoors, swimming, poetry, Martial arts. im a huge soppy romantic.
I'm a true believer of flowers, romantic candle lit dinners and walks along the beach. Shame no women here want that anymore.
At the moment I teach martial arts to kids and have a job in retail. I love it.
send me a message and ill always reply hugs x

Blog
3 posts | view all
new poetry
wrote
Study how water flows in a valley stream, smoothly and freely between the rocks. Also learn from holy books and wise people. Everything - even mountains, rivers, plants and trees - should be your teacher

As soon as you concern yourself with the 'good' and 'bad' of your fellows, you create an opening in your heart for maliciousness to enter. Testing, competing with, and criticizing others weaken and defeat you

Pine, bamboo, plum, knead and temper, refine and purify these qualities of ki

My Dream Date...


would be a fun day say out at the cinema,iceskating or a Gig, then to a nice restaurant, great food a little wine, with a long peaceful walk under the stars along the beach at night with a nice kiss goodnight at the end, sounds good to me =)
im a bit of a soppy romantic!!!!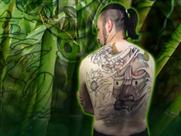 offline

Send message
Add friend
Add to hotlist
Rate member
Report member
one 2 one
View photos (120)


Personal Stats
Interests
Martial arts,Music,Haiku,Reading,Writing
Makes me happy
Music,Friends, Martial arts, Hugs, out doors,
Makes me sad
Anger, Hostility, Frustration, Violence, war
Perfect Partner
Anyone who can tame me or try lol!!!
Bad habits
I can be a bit shy at first if I like someone
Cigarettes
I don't smoke
Alcohol
I drink occasionally
Race
White / Caucasian
Hair
black
Eyes
Brown
Body Type
Defined Slightly Hairy

Favorite Things
Food
Pasta, Chinese, Indian,Steak, Thai
Music
Rock,, Classical, Techno, Blues, Jazz etc
TV Show
Full metal alchemist,family guy,south park,scrubs
Author
gozo shioda, james herbert,tom clancy
Movie
Crow,Spirited away,Labrinth,Avatar,Saw
Night Club / Bar
The planet, Yorkshire house,The giffard arms
Animals
My snakes,Pantha, Komodo dragon, Butteflys
Person
Keith, Kelly Soul, Pj, Shane, My Sensei, Jemima
Website
Click here to view
Place
japan,egypt and greece
Possession/Thing
My sword and double bed :)

Details
Last logged on Cool Tools™ only
Advanced stats Cool Tools™ only